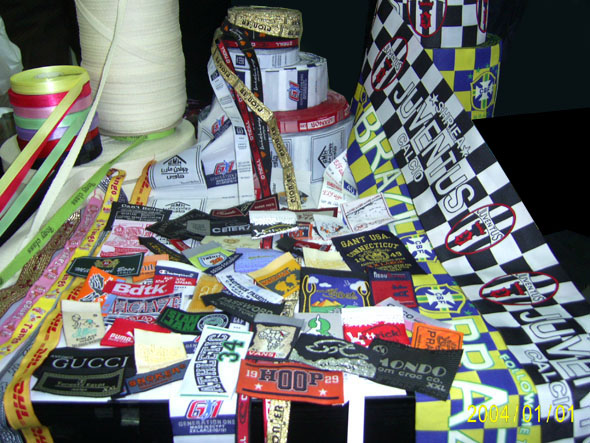 Welcome to " El Ethad El Akhawy ". Suppliers of custom clothing labels, designer labels, woven name tapes and identification labels, craft labels, care labels and personalised woven celebration ribbon.
We supply the highest quality woven labels used by a wide variety of end users from the home sewing and knitting enthusiast to the designers in the garment trade.
You can find all of our identification labels in our Products pages. Among some of the products you will find our woven sew on nametapes. The finest quality woven name tapes that are the traditional way of labelling children's clothing.
Sports tags are particularly popular for games and PE Kits with many schools insisting on this type of identification label.
We also supply printed shoe and property labels. These labels are tough metallic self-adhesive labels that stick to all non-material items.

Our craft and hobby labels are the perfect way to give that professional, personal look to your knitwear, sewing, teddy bears and craft items.
Our quality designer labels are ideal for anyone wishing to have their own completely individual woven clothing label. We supply designer woven labels to Dressmakers, Tailors, Quilters, Knitters and Designers all wanting their own custom clothing label to give their garments that professional finish.
Worried about your luggage at busy airports and bus terminals? Try our woven luggage straps personalised with your name. Even cruise lines recommend our personalised luggage straps with a tough strap, named and lockable for your peace of mind. If your suitcase breaks open our luggage strap will help hold everything together.